London Governance & Compliance Academy (LGCA)
LGCA is a multi-accredited UK learning provider specialising in, but not limited to, the areas of governance, risk, compliance and cybersecurity.
LGCA is part of the European Institute of Management and Finance (EIMF) Group, one of Europe's leading institutions for certified and executive education, eLearning and bespoke learning solutions in the financial sector. The Group specialises in providing practical & essential knowledge and skills for professionals to excel in their careers and meet the demands of today's financial sector.
Invested in your future
Our business is financial education, and we are passionate and committed to your personal and professional development in financial services.
Our 200+ specialised courses cover a wide range of subjects, including regulatory compliance, financial crime, risk management, accounting, banking, compliance office skills, taxation, marketing, corporate governance, leadership, law and more. 
LGCA is an accredited training partner (ATP) of the Chartered Institute for Securities & Investment (CISI), offering fully online training courses for a great number of CISI qualifications. In addition to the CISI, the LGCA is also an accredited training institution the International Governance & Compliance Association (IGCA), the Association of Accounting Technicians (AAT), the International Association of Privacy Professionals (IAPP) and an accredited training provider of EXIN.
As well as accredited courses, we provide many vocational and other specific programs to assist in your daily responsibilities and career progression.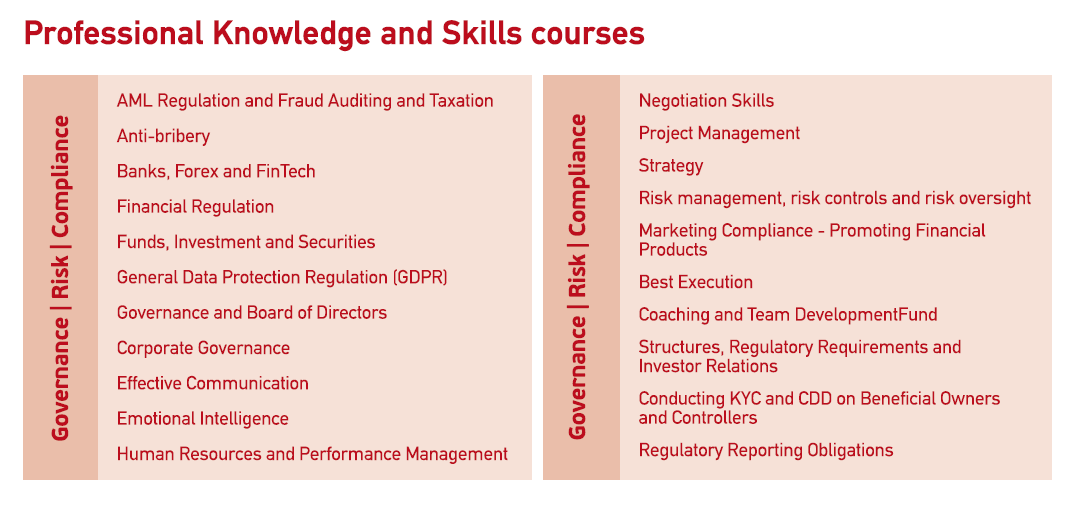 Made for tomorrow, relevant today
Whether it is complaints handling or financial crime, compliance monitoring or sanctions updates, MiFIR transaction reporting or blockchain, at the LGCA we have courses designed to accommodate your mode of study and level of ability.
Our faculty of expert trainers are leading specialists in their fields. Their passion for their subjects, practical experience and years of training ensure that you get the most out of the courses; you gain relevant knowledge and practical skills that have a  measurable impact on your personal and professional progression. 
Have a look at all our upcoming courses now!
Bespoke – because each company is different
When considering inhouse training courses, we understand that your firm's needs will be unique. With this in mind, our courses are customised to your firm, the course participants and their particular department. A course may be varied in length and depth and may focus on a particular issue to suit your needs.
Speak to one of our team today to find out how we can tailor a course for you!